Culture, Ideology and Stewardship in focus at the 2019 ECGI Members' Meeting
January 09 2020
ECGI held its Annual Members' Meeting in Barcelona on 24 October 2019, bringing together international academics and practitioners in the field of corporate governance for a programme that included a general assembly, a lecture, a panel discussion, presentation of the two best papers in 2018 and a dinner.
The event was hosted by IESE Business School, Barcelona. The annual lecture was delivered by Professor Paola Sapienza (Kellogg School of Management and ECGI). Professor Sapienza's lecture was entitled "The Economics of Firm Culture". Following the lecture there was a panel discussion moderated by Prof. Marco Becht (ULB and ECGI) with Dr. Beatrice Engström-Bondy (Investor AB) and Professor Sapienza.
The two sessions served to highlight the significance of corporate culture, noting its potential to provide intrinsic motivation, increased productivity and reduced costs, while highlighting the enormous risks when it is perceived to go awry. The endogeneity problem was underlined as the key challenge for empirical studies on the topic, as they seek to define positive or negative culture in an attempt to correlate this with performance and other outcomes. Some of the many factors contributing to corporate culture include local culture and the identity of workers, stated or taught values, hiring and training policies, and the influence of a leader with their own social identity. Some practical steps were also offered for fostering a positive corporate culture that can work across sectors, beliefs, and geography. These include creating a dialogue and a network along with a sense of pride and inclusivity across the group. It is also helpful to have an owner that employees can identify with, and a majority shareholder with a long-term view.
Following these sessions, ECGI awarded prizes for the best papers in the Finance and Law Working Paper Series' from the previous year. The Finance Series prize of EUR 5,000, which is sponsored by Aberdeen Standard Investments, the global fund manager, was awarded to Professors Patrick Bolton (Columbia University), Tao Li (University of Florida), Enrichetta Ravina (Northwestern University) and Howard Rosenthal (New York University), for their paper on "Investor Ideology" (ECGI Finance Working Paper 557/2018). The prize was collected by Prof. Enrichetta Ravina who presented the findings of their paper.
The study is a novel approach to analysing the voting patterns of institutional investors, not in a political sense, but in a way that is internally consistent across issues. They map two dimensions, with the first being a 'socially versus profit-oriented' dimension. The investors on the left support more socially and environmentally friendly proposals and tend to vote more often against say-on-pay proposals; while the investors on the right are more money conscious and vote against proposals that may cost shareholders money. The second dimension considers 'management disciplinarian investors versus more management friendly investors'. The paper shows that preferences of shareholders are heterogenous and it does not assume that investors vote to maximize shareholder value. It was noted that it is currently still unclear whether this heterogeneity reflects different views on how to best accomplish the same objective of maximizing shareholder value, or whether the investors on the left also have a different objective than maximizing only shareholder value.
The Law Series prize of EUR 5,000, sponsored by Cleary Gottlieb Steen Hamilton, the international law firm, was awarded to Professors Lucian Bebchuk (Harvard Law School, NBER, CEPR and ECGI) and Scott Hirst (Boston University, Harvard Law School) for their paper on "Index Funds and the Future of Corporate Governance: Theory, Evidence, and Policy" (ECGI Law Working Paper 433/2018).
The paper seeks to provide a comprehensive theoretical, empirical, and policy analysis of index fund stewardship. The paper puts forward an agency-costs theory of index fund incentives showing that index fund managers have strong incentives to (i) underinvest in stewardship and (ii) defer excessively to the preferences and positions of corporate managers. The paper also provides an empirical analysis of the full range of stewardship activities that index funds do and do not undertake, focusing on the three largest index fund managers. This body of evidence is, on the whole, consistent with the incentive problems that the paper's agency-costs framework identifies. The paper puts forward a set of reforms that policymakers should consider in order to address the incentives of index fund managers to underinvest in stewardship, their incentives to be excessively deferential to corporate managers, and the continuing rise of index investing. The paper also discusses how its analysis should reorient important ongoing debates regarding common ownership and hedge fund activism.
The ECGI Members' dinner took place that evening, with Francisco Reynés Massanet (Naturgy), providing the after-dinner speech to an audience of ECGI members and invited guests. Mr. Reynés provided many insightful observations reflecting on his experience as CEO and Chair of a listed energy company. He emphasised that corporate governance is about helping companies to last forever, it is something that is there to help the CEO, and its importance is also recognised by the market. He pointed to the board of directors as a key actor that must support the long-term purpose of the company, being the place where the interests of the different shareholders, who have different visions and different time horizons, are discussed and where a solution to these differences is negotiated. He further stressed that it is important that all of the directors have the same objective of taking the best decisions for the corporation, regardless of which shareholder they represent, as is also their legal duty.
The Annual Members' Meeting concluded after the dinner. 
Click here to read the event report by Tom Vos (KU Leuven):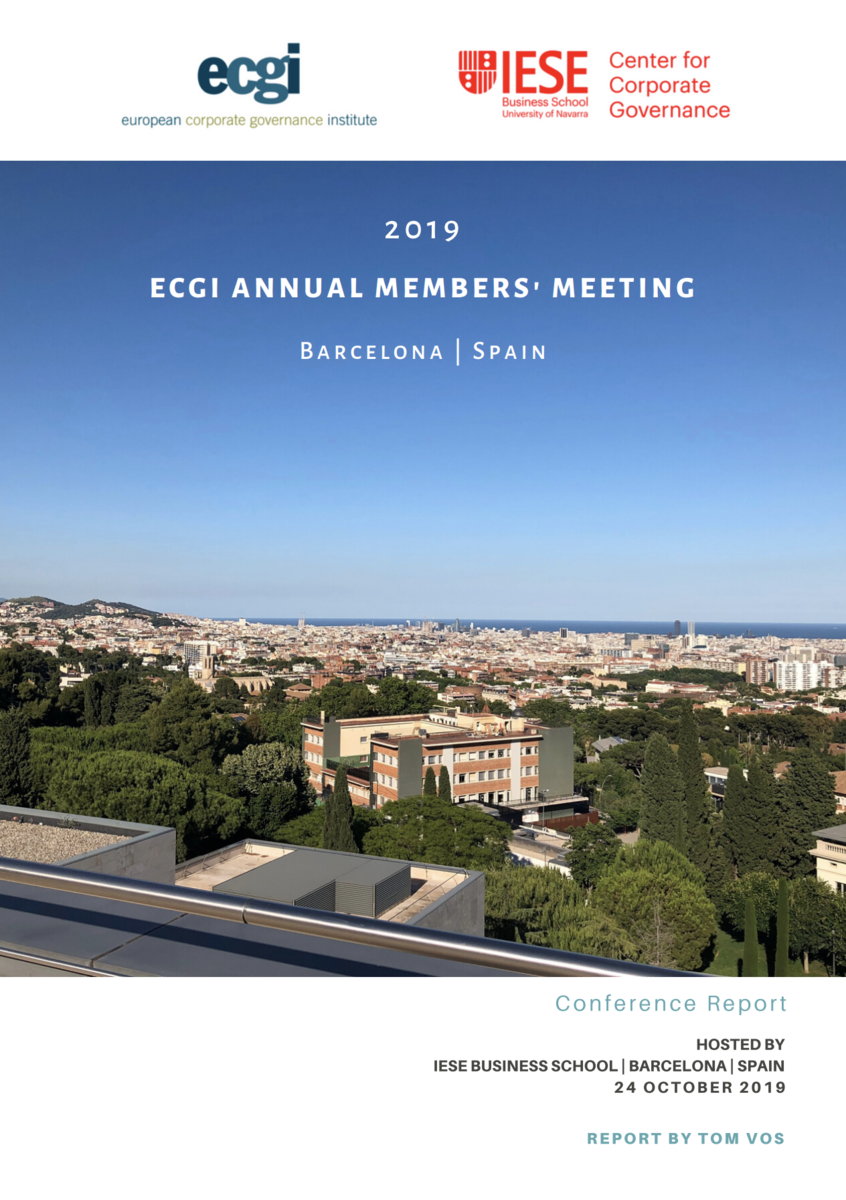 Click here to access the paper: "Index Funds and the Future of Corporate Governance: Theory, Evidence, and Policy"
Click here to access the paper: "Investor Ideology"
Click here to visit the event page and view the programme
Click here to watch the Annual Lecture by Prof. Paola Sapienza
Click here to watch the focus panel on Corporate Culture
Click here to watch the presentation of the Finance Prize
Click here to watch the presentation of the Law Prize
Click here to watch the dinner speech by Mr. Francisco Reynés
Click here to watch the interview with Paola Sapienza
Click here to watch the interview with Lucian Bebchuk and Scott Hirst
Click here to watch the interview with Enrichetta Ravina
Click here to watch the highlight video
**********
About the European Corporate Governance Institute (ECGI)
The ECGI is an international scientific non-profit association which provides a forum for debate and dialogue focusing on major corporate governance issues and thereby promoting best practice. It is the home for all those with an interest in corporate governance offering membership categories for academics, practitioners, patrons and institutions.
Its primary role is to undertake, commission and disseminate research on corporate governance. Based upon impartial and objective research and the collective knowledge and wisdom of its members, it can advise on the formulation of corporate governance policy and development of best practice. In seeking to achieve the aim of improving corporate governance, ECGI acts as a focal point for academics working on corporate governance in Europe and elsewhere, encouraging the interaction between the different disciplines, such as economics, law, finance and management.
About the IESE Center for Corporate Governance (IESE CCG)
https://www.iese.edu/faculty-research/research-centers/iese-ccg-center-c...
The IESE Center for Corporate Governance aims to advance the theory and practice of corporate governance by promoting evidence based research, fostering an inter-disciplinary discussion among scholars and experts and helping to create a learning context in which chairs of boards, CEOs, board members, investors and senior executives can reflect on and acquire new frameworks and ideas to improve their firms' governance.
About Aberdeen Standard Investments
Aberdeen Standard Investments (ASI) is a leading global asset manager dedicated to creating long-term value for clients, and is a brand of the investment businesses of Aberdeen Asset Management and Standard Life Investments. With over 1,000 investment professionals, ASI manages £505.1 billion* of assets worldwide and has clients in 80 countries supported by 50 relationship offices. This ensures ASI is close to its clients and the markets in which it invests. As high-conviction, long-term investors ASI believe teamwork and collaboration are the key to delivering repeatable, superior investment performance.
(*as at 31 December 2018)
About Cleary Gottlieb Steen & Hamilton LLP
Founded in 1946, Cleary Gottlieb has grown to over 1,200 lawyers from more than 50 countries, working across practices, industries, jurisdictions, and continents to provide clients with simple, actionable approaches to their most complex legal and business challenges.
We support every client relationship with intellectual agility, commercial acumen, and a human touch. We have a proven track record for serving with innovation. We are fluent in the many languages of local and global business. And we have achieved consistent success in multiple jurisdictions.
Global corporations, financial institutions, sovereign governments, local businesses, and individuals come to us for consistently practical and forward-looking advice.
About the ECGI Working Paper Series
The primary purpose of the two series (Law and Finance) is to publish research papers on corporate governance related topics that are authored or co-authored by ECGI Research Members i.e. those who have been elected as ECGI Fellows or nominated as ECGI Research Associates.
The series editors generally apply a broad definition of corporate governance and also include papers on the interface between corporate governance and other areas, or papers of which only a part touches on corporate governance. However, papers in other areas whose relevance for corporate governance is only indirect or methodological are not included.