New Research on Executive Compensation and on Sustainability
16 - 17 December 2019
•

Bar-Ilan University, Ramat-Gan
***This event is by invitation only***
Click here to download the programme
New Research on Executive Compensation and on Sustainability
16-17 December 2019: Bar-Ilan University, Ramat-Gan
Monday 16 December
Weisfeld Hall, Feldman building (301), Tel Aviv, Israel
Tuesday 17 December
Economics and Business Administration Building (405), Auditorium 10, ground floor
Jointly organized by
European Corporate Governance Institute (ECGI)
Raymond Ackerman Family Chair in Israeli Corporate Governance, Bar-Ilan University
With financial support from
European Corporate Governance Research Foundation (ECGRF)
Raymond Ackerman Family Chair in Israeli Corporate Governance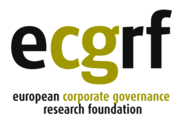 Information
Address:
Bar-Ilan University, Ramat-Gan, Tel Aviv, Israel
Travel and accomodation
Delegate information will be provided by email.
Monday 16 December- Executive Compensation
Why do Employees Exercise Stock Options Early?
Outraged By Compensation: Implications for Public Pension Performance
Are CEOs Paid Extra for Riskier Pay Packages?
Restricting CEO pay backfires: Evidence from China
Recognition Rules and Accounting-Based Compensation
Cost Shielding in Executive Bonus Plans
Tuesday 17 December- Sustainability
Renewable Governance: Good for the Environment?
Contracts with Benefits: The Implementation of Impact Investing
Corporate Governance and Social Impact of Non-Profits: Evidence from a Randomized Program in Healthcare in the Democratic Republic of Congo
ESG Shareholder Engagement and Downside Risk
Why is Corporate Virtue in the Eye of The Beholder? The Case of ESG Ratings
Benchmarking in CEO Compensation Design